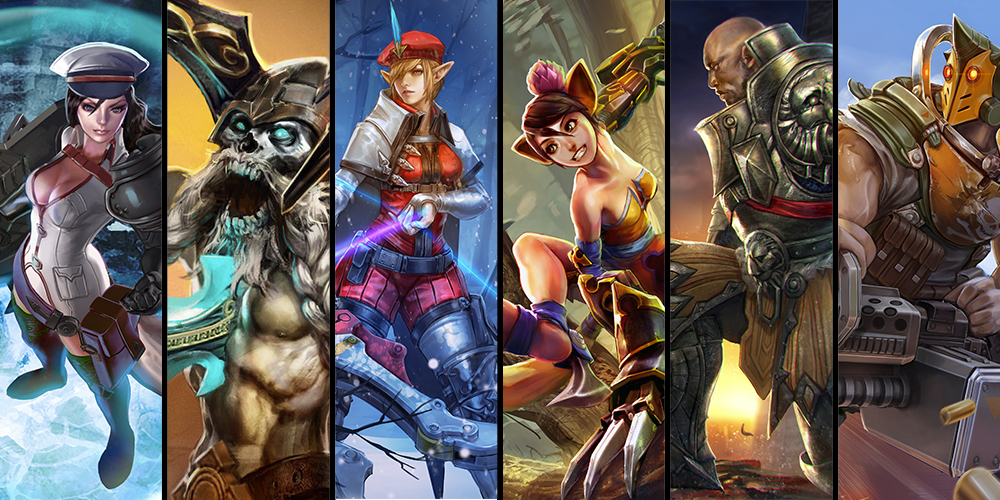 Each week six heroes are temporarily unlocked for play in Casual and Private games. Try this set of heroes today!
---
CATHERINE (CAPTAIN)
Catherine brings the most reliable stun and disruption skills to teamfights and ganks. Hard to kill and great at chasing, she can secure kills and turn around fights that would otherwise be lost. Catherine can soak up damage and strike fear on sight. She is best roaming between jungle and lane.
---
KRUL (JUNGLER)
Krul is a jungle nightmare who dominates in 1v1 duels. Able to absorb massive amounts of damage and recover large portions of his own health mid-battle, Krul can bring the pain and survive a beating as long as he can stick to his target.
---
KESTREL (JUNGLER)
Kestrel is an elite Stormguard archer who takes down targets from a distance. When building weapon, she deals rapid, sustained damage and uses stealth to find better footing when enemies get too close. Kestrel's crystal path affords longer stealth times, which sets up aggressive tactical plays. She's best in the jungle where there are fewer obstructions between her deadly arrows and her prey.
---
KOSHKA (JUNGLER)
Koshka is an in-your-face assassin adept at getting the kill and then getting out. She should focus on assassinating weak targets and locking down the most lethal enemy. She is extremely fast at clearing jungle camps, making her an ideal jungler. Confident players will even invade the enemy-side jungle for fun and profit.
---
LANCE (CAPTAIN)
Lance depends on both his courage and his wits to protect his allies. With his unique polearm-and-shield combat style, he breaks enemy lines and creates opportunities for his friends. Lance can build crystal or utility items to excel in his role as a protector, or he can build weapon items to deal more damage during battle.
---
SAW (CARRY)
SAW has arguably the highest damage potential in the game … but at the huge expense of mobility. Excellent at sieging important locations, SAW zones out entire regions from the enemy team with Suppressing Fire. Try starting him in lane, earn as much gold as possible, then make your presence felt wherever needed.
---
ABOUT THE FREE HERO ROTATION
The free hero rotation unlocks six heroes each week to play as long and as much as you want in the Casual queue. It's an opportunity to test drive heroes before using ICE or Glory to unlock them.
The free rotation changes every Tuesday and heroes in the rotation usually won't return for a few weeks or months afterward, so unlocking heroes is always worthwhile. The free rotation does not apply to Ranked play to ensure players are already very familiar with the heroes they play in that try-hard environment with skill tiers at stake.
---
Jump into the Fold now with this group of great heroes!