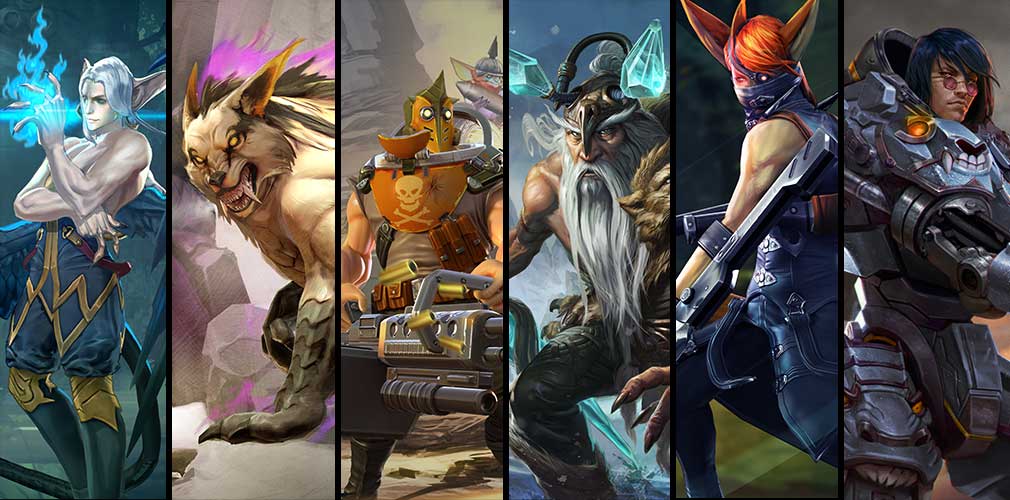 Each week six heroes are temporarily unlocked for play in Casual and Private games. Try this set of heroes today!
---
ADAGIO (CAPTAIN)
The master manipulator of large-scale battles, Adagio brings incredible teamfight presence with huge area-of-effect damage and team-saving abilities. He almost seems too good: He can heal. He can amplify damage. He can stun and nuke the entire enemy team … but none of these can be achieved easily without team-wide coordination. Adagio is extremely flexible and can start as laner, jungler or roamer.
---
FORTRESS (CAPTAIN)
This Halcyon Well guardian is a snarling, frightening sight in the jungle. He stalks prey, closes in with teammates, flanks targets and creates challenging, multi-front confrontations. Start Fortress in the jungle, stay near your allies and bite and claw your way to kills.
---
SAW (CARRY)
SAW has arguably the highest damage potential in the game … but at the huge expense of mobility. Excellent at sieging important locations, SAW zones out entire regions from the enemy team with Suppressing Fire. Try starting him in lane, earn as much gold as possible, then make your presence felt wherever needed.
---
REIM (JUNGLER)
Reim is a grumpy old winter mage who freezes everyone who crosses him. Though he moves slowly, he deals heavy damage to opponents while being surprisingly resilient himself. He holds his own in the lane, but he's particularly effective in the jungle where he can go toe-to-toe against most opponents that he can catch.
---
TAKA (JUNGLER)
Taka is a stealthy assassin who weaves in and out of battle, eliminating targets with his switchblades. With proper timing and combat awareness, Taka can pick off an enemy and escape — only to reappear again for another kill. Start Taka in the jungle, but feel free to venture into the lane to surprise your opponents.
---
BARON (CARRY)
Baron rains destruction on his opponents. When building crystal items, he becomes mobile artillery, laying siege to enemy teams. His weapon path enables aggressive in-your-face tactics. No matter how he builds, he brings incredible range and powerful burst damage to any team.
---
ABOUT THE FREE HERO ROTATION
The free hero rotation unlocks six heroes each week to play as long and as much as you want in the Casual queue. It's an opportunity to test drive heroes before using ICE or Glory to unlock them.
The free rotation changes every Tuesday and heroes in the rotation usually won't return for a few weeks or months afterward, so unlocking heroes is always worthwhile. The free rotation does not apply to Ranked play to ensure players are already very familiar with the heroes they play in that try-hard environment with skill tiers at stake.
---
Jump into the Fold now with this group of great heroes!