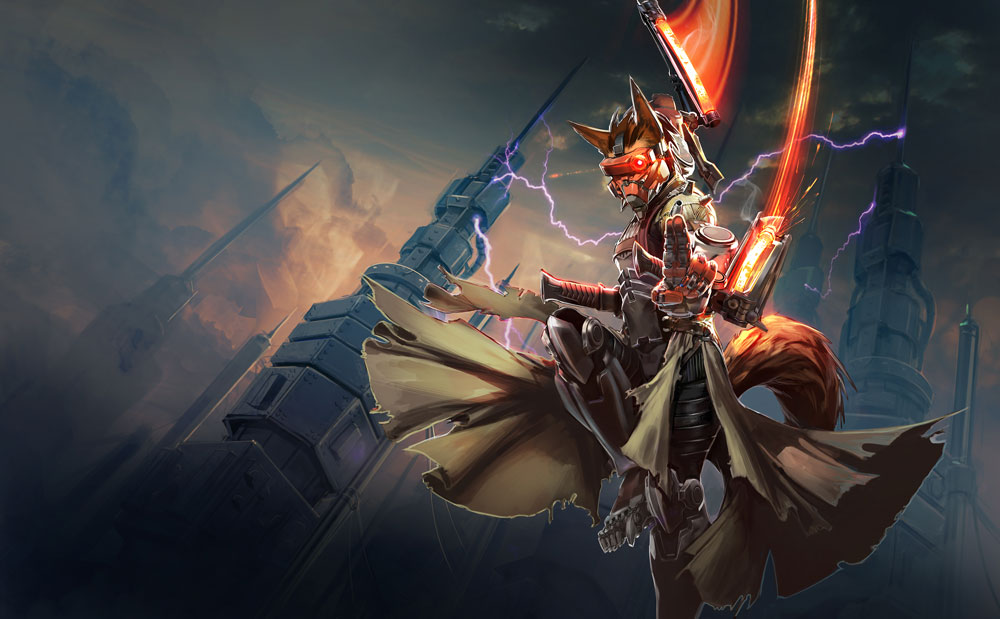 For the first time ever, you can collect cards to unlock a limited-edition skin! Night Shadow Taka has a completely new effects suite featuring molten metal blades.
WHAT'S NEW:
Gythian steel armor
Technologist machinery
Blazing blades
Disappears under an automaton
Flashy molten metal spark effects
New ability animations
HOW IT WORKS:
The Night Shadow Taka skin is available today and can be unlocked with ICE or by weaving it with cards.
Unlock this limited-time skin with ICE or by collecting 16 "Night Shadow Taka" legendary cards.
Taka card events will accelerate you toward the 16 legendaries you need. These card events will be similar to "Crazy 8" card events, except that after your third win of the day, you are guaranteed to get a Night Shadow Taka card.
A special card box in the Market will only contain Night Shadow Taka legendary cards to help you complete your collection.
You may destroy unwanted cards and use the Essence to craft the Night Shadow Taka cards you need.
This special legendary card may drop randomly after completing matches, if you're lucky!
WHEN ARE THE CARD EVENTS?!
Night Shadow Taka card events will be every weekend throughout 1.15 at the following times:
Friday 4PM PST – Saturday 4PM PST (24 hours to get your Taka card)
Saturday 4PM PST – Sunday 4PM PST (24 hours to get your Taka card)
Wins will trigger the following rewards:
First win = guaranteed rare card
Second win = guaranteed epic card
Third win = guaranteed "Night Shadow Taka" card
Night Shadow Taka is available in the Market now. This is the first limited-edition skin to be attainable via card unlocks, but won't be available forever, so unlock your Night Shadow Taka now!