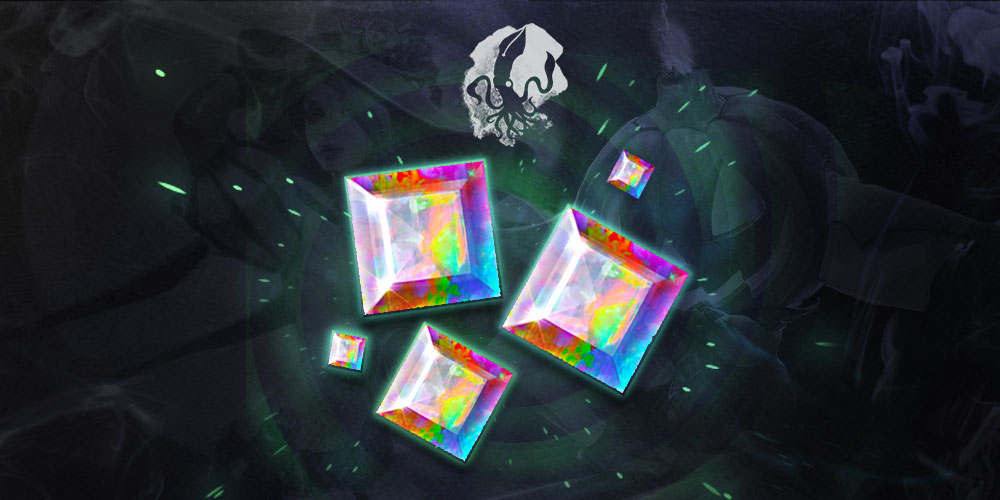 In this regular column, Vainglory Senior Editor BicycleSquid highlights interesting, confusing, complex or obscure aspects of Vainglory. If you'd like to see a topic covered, let him know here.
Every time you start a new season, we want you to be excited for new, rewarding experiences. To that end, we introduced a new currency, Opals, which open up amazing opportunities for you to unlock Special Edition skins at whatever pace fits your playstyle.
---
What are Opals & how do I get them?
Opals are a super-rare currency that you may get from your Daily Chest and Season Chest. Use Opals to unlock Special Edition skins such as Moon Princess Celeste and Summer Party SAW.
---
How do I spend my Opals?
Visit the in-game Market and look for skins with an Opals icon and cost. Eventually, there will be a dedicated Opals section of the Market that only contains these Special Edition skins.
---
What Opals skins will be available and when?
So far, Summer Party Phinn is the only skin available to unlock with Opals. More and more Special Edition skins will be added over time, based on the phases below:
PHASE ONE: ICE PURCHASE
When a Special Edition (often seasonal) skin is first released, it will be directly purchasable with ICE.
That skin will also be placed inside the Season Chest. If you're really lucky, you can instantly unlock the new Special Edition skin when you use a key to open the Season Chest!
PHASE TWO: OPALS MARKET (IN SEASON)
One update later (aprox. one month after release), the Special Edition skin will move into the Opals section of the Market and no longer be available for direct ICE purchase. At this point, the only way to get the skin is with Opals.
At this point, the skin is also considered "in season." When a skin is first in season, it will be available at a significant Opals discount. I can't stress this enough: If you can get a skin with Opals during its first season, do it!
PHASE THREE: OPALS MARKET (OUT OF SEASON)
When the next season launches, the out-of-season skin's Opals cost may go up significantly. This may also vary from skin to skin. Note: A skin is only "in season" once; it won't be at a reduced price again a year later.
---
Vainglory has been cast into darkness by Petal's eternal enemy, the Bleekos! Introducing the new Special Edition versions of 'Pumpkin Spice' Petal and 'Baewitched' Celeste — spooky new designs based on the original Limited Edition favorites.
---
What's the difference between Limited Edition and Special Edition skins?
Seven Limited Edition seasonal skins were released in the past between Spring 2015 and Autumn 2016. These include fan favorites such as Gift-Wrapped Fortress, Pumpkin Spice Petal and Night Shadow Taka. Over time, we will be releasing new Special Edition versions of these skins that are distinctly different than the originals. And good news: If you already own the original Limited Edition skin, you will automatically get the new Special Edition skin at no additional cost!
Important note: These seven reissued skins only will skip the "direct ICE purchase" phase and go directly into the Opals Market upon release.
Moving forward, we will release Special Edition skins, often seasonal in nature. New Special Edition skins will follow the phases above, starting as a direct ICE purchase and then move into the Opals Market. So, your Opals can be used on any future Special Edition skin!
---
DISCLAIMER: EVERYTHING CAN CHANGE! 
The Opals system is brand-new, and we're going to learn a lot over time and hear feedback from the Vainglory Community. What we've stated above is the current plan of record, but we may need to tweak — or even overhaul — the plan for Opals and Special Edition skins as we learn what's working amazingly well and what's not. Please do not consider any statements about Opals or Special Edition skins as forever set in stone. That said, we'll do our very best to alert players well in advance if any changes are incoming.
---
Opals are already in the game! Go play and collect them now and save up for that Special Edition skin of your dreams.