The Star Queen's rise to power is complete! The saga ends with Star Queen Celeste Tier III. Read on for art, turnarounds and links to the "Rise of the Star Queen" skin lore series. Unlock this skin in the Market now.
---
WATCH TIER III 'STAR QUEEN' CELESTE IN ACTION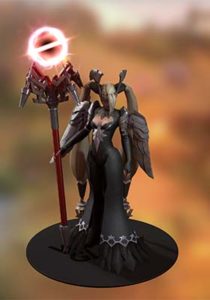 Black void sphere basic attacks
Giant black void sphere Heliogenesis stars
Ravens emerge from her Core Collapse
Death phantoms fly out from her Solar Storm
Brand-new floaty sprint and recall animations
Black hole staff
Unforgettable model changes. (Be sure to turn on pinch-to-zoom in settings!)
---
RELATED CELESTE LORE
by SugarVenom
---
INTERVIEW WITH SUPER EVIL ARTIST NOXII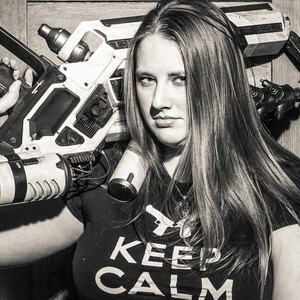 "I combined the raven and the starry aspects to show how Celeste is the Star Queen with the Storm Queen's power. The stars around her skirt show that she's so full of cosmic power now that it's leaking out uncontrollably. I looked at a lot of high fashion feather collars; I wanted her to look modest but still provocative. The lace on the skirt helps transition the feathers to the leather and makes it look regal. My favorite part is her extravagant black organza hair decoration. She has built a black hole onto her default staff. She's holding onto what she used to be, but now she has the power of creation and destruction.
"I don't think she's evil; I think she's pragmatic. She thinks she's doing the right thing. She may burn some bridges, but the people close to her know how compassionate she is. Vox will probably try to help her see why what she's doing isn't good.
"With every splash, I experiment with painting techniques and challenge myself to amp it up. I learned a lot from painting the metal in Bonecruncher Phinn's splash art. My faces are usually more cartoony, but Celeste's hair and face are soft. I chose a dynamic pose with a symmetrical composition to emphasize Star Queen Celeste's power."
---
Keep an eye on the in-game NEWS section for more update 1.18 reveals!